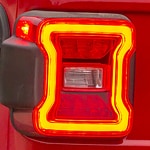 Jeep Wrangler capabilities are legendary. But the features and benefits of this iconic vehicle can be difficult to understand. From its off-road capability to its incredible performance, we'll take a look at what makes Jeep Wranglers so great and how they can benefit you on your next adventure.

Off-Road Performance

If you purchase a Jeep Wrangler, you won't have to worry about the lack of availability in parts if repairs are needed on the road. There's no better four-wheel-drive performance vehicle available today that can take drivers into regions where they would not be able to experience otherwise. A Jeep Wrangler gives drivers the ability to maneuver through any type of terrain or weather condition.

Safety and Security

Jeep Wrangler has two of the most secure vehicles available on the market today, which means you and your passengers will be feeling safe and secure while travelling. This is thanks partly to the fully-boxed frame that it's built on, which adds strength and durability to the vehicle. In addition to this, Jeep Wrangler vehicles have been tested in some of the most extreme weather conditions, from extreme cold to high levels of humidity. This tests a car's ability to perform and how it handles itself when put under stress.